Special Session I:
Computer Communications and Signal Processing for Consumer Electronics

Chairman: Dr. Pingguo Huang, Seijoh University, Japan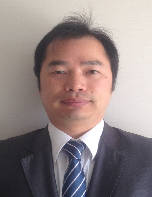 Pingguo Huang received the M.E. and Ph. D degree from Nagoya Institute of Technology, Nagoya, Japan, in 2010 and 2013, respectively. From 2013 to 2017, he served as an
Assistant Professor in Tokyo University of Science. Currently, he is a Lecturer in Seijoh
University. His research interests include QoS (Quality of Service) control and QoE
(Quality of Experience) assessment in networked multimedia. He is a member of IEEE and IEICE.

TOPICS INCLUDE, BUT ARE NOT LIMITED TO:
• Multimedia Signal Processing
• User Interface and Human Computer Interaction
• Display System Design and Implementation
• Distributed System
• Web Technologies and Home Networking
• E-learning
• Network Security and will focus the computer and communication to accomplish it.


Submission Guide
Firstly, submit your contributions via system here:
http://confsys.iconf.org/submission/icfcc2020
Then, please send an e-mail to icfcc@sciei.org, and note you are interested in Special
session Computer Communications and Signal Processing for Consumer Electronics